We are a group of people who actually like our job. We also like working with each other, making our communications and teamwork seamless and occasionally, kind of fun. As technology increasingly automates our day-to-day admin, each team member takes on an increasingly client-focused role, with everyone equally responsible for keeping our clients happy.
We know you're smart and can participate as a partner in your legal issues. They're your legal issues, after all. We may be experts in employment law, but you are the expert in your business/career.
Our Client Value Manifesto is our commitment to each client to match the delivery of our legal services with your specific needs and expectations. The online world is now full of fantastic resources and many clients can get a huge headstart on their own. Our value to your legal matter is our down-to-earth client services, strategic advice, and our ability to sort through the details and noise with our experience and expertise.
Lisa Stam
(416) 238-8180
lstam@springlaw.ca
Lisa Stam practices all aspects of employment, labour and human rights law, and has a particular interest in legal issues involving technology in the workplace and the various methods by which people continue to mess things up with technology.
Lisa Stam is the founder of Spring Law, a virtual law firm advising exclusively on workplace legal issues for employers and executives. She practices all aspects of employment, labour, privacy, and human rights law, with a particular interest in legal issues arising from technology in the workplace. Lisa's practice includes a wide range of entrepreneurs in the tech space, as well as global companies with smaller operations in Canada. In addition to the day to day workplace issues from hiring to firing, Lisa frequently blogs and speaks on both the impact, risks and opportunities of social media and technology issues in (and out of) the workplace, as well as the novel ways in which changing expectations of privacy continues to evolve employment law. Lisa spent 3 years in union-side boutiques, 7 years at the global law firm Baker McKenzie advising global employers, was a co-founding partner of an employment law boutique in 2014, and launched Spring Law in 2017. She continues to represent both employers and executives. Lisa graduated from Dalhousie Law School, after completing an undergraduate degree in medieval history at the University of Toronto.
Since 2009, this blog has been her opportunity to participate in this brave new world.
General Biographical Information:
Lawyer licensed by the Law Society of Upper Canada (Ontario)
Member of the Canadian Bar Association and the Ontario Bar Association
Member of the Women's Law Association of Ontario
University of Toronto, Hons. B.A.
Dalhousie University, LLB
Called to the bar in Ontario, 2004
---
Blog Awards
2019

2018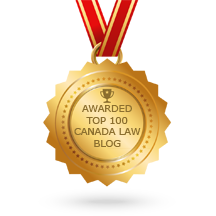 2013 and earlier